I went on another walking tour, this time of 1930s architecture in Hampstead. We began with a lecture at Burgh House, a gracious Georgian mansion now a museum and coffee shop.
Artistic talent n Hampstead long preceded the 1930s. John Constable lived here in 1821-22 and is interred in the cemetery of St John's Hampstead.
In the 1930s Hampstead became a hub for the intelligentsia. Many of those who gathered in the area were émigrés, forced to move as fascism swept through Europe. The Bauhaus founder Walter Gropius moved to London in 1934, and Piet Mondrian arrived in 1938.
'The group was really spearheaded by Barbara Hepworth and her second husband Ben Nicholson.
Rather grand properties on our way back to the 1930s.
An unusual house in an otherwise traditional design – the front is concave.
The 1930s house below, 'the Sun House' by architect Maxwell Fry, looked unloved (shabby) from the outside with metal grills across all the windows to keep intruders out. One of the modern difficulties facing people in London.
It was set in a lovely private road though.
I must say I preferred this neighbouring property (above).
On the corner was an other 1930s design recently refurbished to its original colour scheme. That helped slightly in making it fit into the streetscape, but not much. We could see why it was very controversial when originally constructed.
This street has residences built in the late 1930s and designed by Ernst Freud, son of Sigmund and father of Lucien.
I liked the font on the house sign below, not that the house was built in the relevant periods, though it did appear to have an underground swimming pool under its driveway.
Lunch at 'The Holly Bush'. There was a vegan amongst us, so I was forced to have an extra ice cream dessert.
47 Downshire Hill Rd Hampstead was an important place in this aspect of Hampstead's artistic and literary history. Richard Carline painted a gathering here in 1920s which included Stanley Spencer.
Keats had quite an attractive house I must say.
Some brutalist architecture – council flats a Belsize Park.
Bauhaus architect Walter Gropius, Marcel Breuer, Agatha Christie, László Moholy-Nagy and Jack Pritchard lived in Wells Coates' Isokon Lawn Road Flats (1933).
Just around the corner, the Mall Studios were the standout surprise for me. Purpose built in 1873 by Thomas Batterby as artists' studios, with high ceilings, skylights and huge sash windows to let in as much light as possible.
They are almost invisible from the street, accessible along a narrow path behind a Victorian two-storied house. But when you get inside….
Hampstead's Mall Studios attracted artists, critics and architects – a leafy enclave of London became a thriving centre for some of the 20th century's most influential artists, from Piet Mondrian to Barbara Hepworth.
No 8 Mall Studios was home to Walter Sickert (1860–1942) and the lease was taken on by John Cecil Stephenson (1889–1965) and then lived in by another painter. Up some steep stairs was a balcony with racks for storing stretchers and canvases – it still smells of turpentine.
Barbara Hepworth lived at No 7, Mall Studios, 1932 with her first husband John Skeaping and then with second husband, Ben Nicholson. Henry Moore also lived at 11a Parkhill Road and took over the No 7 when Hepworth and Nicolson left London for St Ives.
Alexander Calder and Naum Gabo, CRW Nevinson, Roland Penrose and Paul Nash were locals too. Hepworth's cousin Jack Hepworth (1911-2003) lived at 22 Parkhill Road, exhibiting under the name Arthur Jackson.
When Piet Mondrian left France, their artist friends found him a space to live and work in 60 Parkhill Road backing onto the Mall.
Mondrian's studio backed onto the Mall Studios.
A 'nest of gentle artists' worked here in the 1930s including Henry Moore,
Dame Barbara Hepworth DBE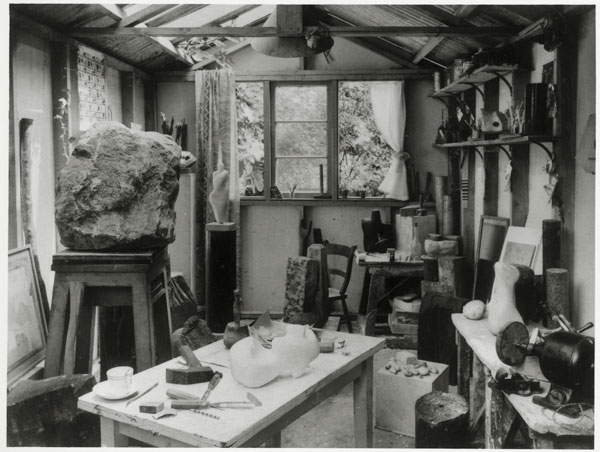 John Skeaping (Hepworth's first husband)
Ben Nicholson (Hepworth's second husband)
Arthur Jackson
John Cecil Stephenson who lived in No 6 for 46 years.
We were invited into NO. 3 where the 93 year old owner had lived there for many years.
Finally we visited 2 Willow Road, a National Trust property. The home is part of a terrace of three homes designed by architect Ernõ Goldfinger and completed in 1939. It was one of the first Modernist buildings acquired by the Trust, giving rise to some controversy. Author Ian Fleming, a neighbour, objected strenuously to the development and argued with the architect about his design. Fleming didn't take kindly to Goldfinger's response.
Goldfinger lived there with his wife Ursula and their children until his death in 1987.